Welcome to Developmental Psychotherapy, where we use revolutionary new theories of human development and love to ENRICH LIVES and RELATIONSHIPS as well as heal individuals, families and marriages.

Why is Stefan Deutsch the therapist for psychotherapists worldwide? Because his revolutionary theories of human development and love are being accepted and researched and utilized around the globe. He is a speaker in demand at major national and international conferences of psychotherapy, psychology, counseling, family therapy and more recently corporate conferences.
This is what Shawn Rubin had to say after attending one of Stefan's workshops at the April 2017 conference for the Society of Humanistic Psychology;
Shawn Rubin, PhD, is President of Division 32 of the American Psychological Association, Professor of Clinical Psychology, George Washington University. After he attended my workshop on integrating the theory of love into psychotherapy practice, at the recent Div. 32 conference, Shawn said;
"I am not a religious man, but bless you for your work on love."
3 weeks later he emailed; "I want to thank you again for your critically-important work. It has helped me and my patients and brought a more loving consciousness to all of our lives. Intrinsic to any healing."
Stefan is one of the few therapists who have come to understand the need people have for producing results right from the start. That means that his sessions are 1 and 1/2 hours long, charging the same fee as other therapists charge for their 45-50 minute sessions. Although he does NOT accept insurance, the speed of his work winds up saving people valuable time and yes, money.
His brilliant new approach and compassion for his clients' needs have made him in demand around the globe - where he works with both therapists and clients on Internet platforms like Skype, GoToMeeting, etc.
5 new clients from the tri-state area will have the good fortune to work with him in person.
Stefan is an expert in Marriage & Couples counseling, Individual Counseling and Family Counseling. His travels and commitments have limited him to work with only a few clients for years. Having fulfilled most of his commitments at present he is opening his practice to five new clients. Look at the video to see a little bit of his work, read his articles on Arianna Huffington's new Thrive Global website and make a decision for yourself. Do you want the most effective approach available today - or go with an approach whose effectiveness has been questioned now for over 40 years. Which one makes you most excited about your future?!

Whether you are looking to make a good relationship great, or solve some worrisome issues, 45-50 minute sessions have been shown to fall far short of helping people achieve noticeable progress. So why does the counseling/coaching profession insist on continuing this practice? Because it allow a therapist to see more people in those hours when most people are available - mornings, evenings, weekends. For you, the client, it means having to go 2-3 times more often to get the same results. Your choice!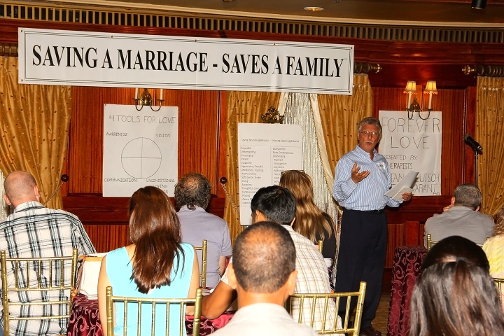 Our breakthrough method has been
acknowledged nationally and internationally
and taught at major human development and psychotherapy conferences to life coaches, marriage counselors, and individual and marriage therapists worldwide.

Developmental Psychotherapy has been specifically designed to have people;
learn to love themselves, their spouse, and families unconditionally;
learn to expand inner awareness,
master effective communication skills,
and learn to work with vision in relationships,
all in order to create a permanent shift in the quality of life. Deutsch believes that is the foundation for enriching good relaitonships as well as dealing with all other problems like arguing, money, parenting, intimacy, and depression, anxiety, fear, co-dependency, and so forth.
What Dr. Roberta Karant, of Stony Brook University, a colleague for many years, says about Deutsch;
"I heard Stefan Deutsch give a talk about his ideas six years ago and my first reaction was, 'Wow. I had never heard concepts on human development, psychotherapy or love that were comparable. Simple, intuitive, experiential, logical – but most of all – they rang true. I thought this is someone I have to work with – he is going to change the world.' I've been working with Stefan Deutsch ever since, and have witnessed the power of his ideas in our work as well as in my own practice and life firsthand. A lot of people are called Foremost Experts in this or that field. I don't believe it applies to anyone more than Stefan as far as the realms of love, loving, enriching good relationships, healing stuck ones, or developing human potential are concerned."

What Dr. Ivel De Freitas, MD, interenist and expert in intergrative medicine says:
"I was fully convinced that my successful practice, the love my clients, family and friends gave me was a clear sign of my having mastered love. When I heard Stefan explain his theory of love I had to admit that there was something missing in my understanding of love and healing. I immediately asked him to teach me his ideas and invited him to work with me on clinical trials to help doctors, nurses and resident manage their stress and prevent the burn-out epidemic in the medical community. Since then my clients have greatly benefitted from his theory as has my relationships with my children, my husband, and most significantly, myself."
Our clients learn to appreciate, understand, accept, be patient, encourage, and be compassionate with themselves, and not accept anything less from people in their lives. That way they become more appreciative, understanding, accepting, patient, encouraging, and compassionate with their spouse, children, family and friends. Therapist trainings do not touch on love, so most therapists don't know how to teach their clients how to love self or ask for love in ways that will have others respond positively. 



Developmental Psychotherapy is the first and only program to use both your potential to love and potential to grow as teaching/healing tools. 

Couples Counseling - an integrated developmental approach
This video is a training tool is for psychotherapists who are my students. After the introduction you will see a typical session for a few minutes after which you will see how a completely different approach works. It is effective for both couples and individuals.
(click

to play video)
Compare the traditional psychotherapy approach with the developmental approach.
| | | |
| --- | --- | --- |
| Typical Psychotherapeutic Approach | | Developmental Approach |
| .Something is broken = analyze it / fix it | | Nothing is broken = New Tools are Needed |
| Talk about Problems = Focus on the Past | | Experience the Present = Focus on the Future |
| Brings up a Lot of Sadness | | Creates a Lot of Hope |
| .Looks to Assign Blame and Fault | | Achieves Forgiveness with Self and Others |
| Often Adds to Depression | | Often Creates Lots of Energy |
| Aggravates Important Relationships | | Heals All Important Relationships |
| Positive Results in a Couple of Years | | Positive Results in a Couple of Months |
| Marriages End with Divorce Lawyers | | Marriages are Most Often Healed |
| Divorces Tend to be Ugly / Costly | | Divorces End with Mediaters |
To work with one of the most knowledgeable and experienced experts in the field of human development, enrichment, and psychotherapy call for your appointment today.
Specializing in:
Life Enrichment, Marriage Enrichment, Growth & Development
Couple's Therapy, Couple's Dialogue, Divorce Coaching,
Self-Esteem, Self-Respect, Self-Support, Self-Love
Anxiety, Depression, Weight Loss, Career Change,
Healing Parental - Sibling - Adult Child Relationships, Goal Coaching,
Communication, Self-Actualization, Positive Psychology
How do you find the right therapist? That is the question every client seeking help needs to ask themselves.
Whether this is the first time you are seeking enrichment, guidance, or you have been in therapy or counseling before, making that first call can be hard. Keeping first appointments is also challenging.
For a FREE 15 minute telephone interview to answer any questions you may have and for me to determine whether my work can help you - call 516 220 6471.
You are welcome to email or call me to set up an appointment.
To see a typical presentation on relationships, Click here.